xstarlesscity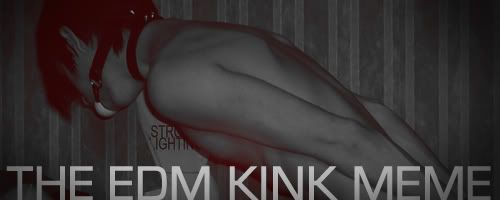 brought to you by

m0rae (moreae.tumblr.com)and

xstarlesscity (imgaydidntyouknow.tumblr.com)
GUIDELINES:
- you can be anon, but you don't have to be anon. you take full credit for your pervy thoughts if you like, but don't feel pressured.
- one prompt per post, please.
- read over the requests and fill them with fic and art. both are encouraged!
- a post can be filled multiple times. just because someone drew it doesn't mean you can't write it, or draw it again. and again and again and again. the more the merrier.
- absolutely NO hating on other people's kinks. there is a 0% chance that writing or requesting fic or art will hurt anyone, so live and let live.
- pimp us around! most of this fandom isn't on lj, so the more this gets pimped, the more likely it is that your requests will get filled. post the banner on tumblr with a click-through link to this page!
this fandom is seriously lacking in kink.
let's get this party started.